Crafts
Cork Monograms
$38
Use wine corks to create your own monogram that you can hang or display using a plate stand.
Dream Catchers
$45
Learn a step-by-step process resulting in a whimsical dream catcher. Each dream catcher has a top ring with a 12" diameter in which a woven web suspends a round doily. Pieces of torn fabric, yarn, lace, ribbon and more create a cascading curtain of beautiful streamers from which embellishments like feathers and beads can hang. These gorgeous dream catchers make beautiful gifts and wonderful decor for all ages.
Fabric Wrapped Wreaths
$40
Create a colorful and fun wreath for any occasion with a variety of fabric to choose from!
Tile Coasters
$35
Create a set of 5 tile coasters. Choose from a variety of provided patterns to embellish your coasters or bring your own 4"x4" photos to turn them into photo coasters!
Note: There is one optional step to this craft that must be completed at home if desired. This extra step requires that you purchase a specific item from a craft store or website. Written instructions are provided on how to complete this final optional step and what you should purchase if you choose to do it.
Felt & Fabric Flower Crafts
Cost depends on your chosen base.
Learn how to make a variety of felt flowers from scratch! Choose a base to add them to, such as wreaths, canvas totes, flower crowns, or anything you can think of.
Vision Boards
$35
Create a large vision board to guide you toward achieving your goals. Vision boards help to establish goals, act as a reminder of what those goals are, and bring awareness to the steps and actions that need to be taken in order to achieve those goals. Craftivate will provide a variety of materials and motivating instruction. You are encouraged to bring personally meaningful photos, quotes, clippings, etc. in order to complete your vision board in a way that connects with you on a deeper level.
Canvas Tote Bags
$30
Design a canvas tote bag using stenciling and printing techniques.
Embellished Tote Bags
$25
Use a variety of materials like felt, fabric, yarn, glitter and more to embellish a tote bag.
Superhero Capes
$18
A great craft for kids and birthday parties! Treat yourself or someone you love to the gift of a super crafty cape! Create a one-of-a-kind superhero cape for hours of imaginative play.
Glass Bulb Necklaces
$30
Create your own little world and carry it around with you. Choose your fillings to design this adorable glass globe necklace. Use confetti, moss, feathers or a number of fun fillings to make it your own.
Staked Beverage Cozies
$40
Make a set of two beverage cozies to help make your summer soirees delightful. Use fabric and additional embellishments to customize your design. Place these cozies in your yard to hold drinks while people socialize, play games, or eat. Take them to the beach as a way to elevate your experience and keep your beverages sand-free.
Distressed Monogram
$35
Up your rustic-chicness with this distressed glitter and wood chevron monogram.
Ombre Love Sign
$45
Create a decorative sign with wine corks. Choose your own colors and learn how to paint an ombre effect. This LOVE sign is adorable and makes the perfect decoration or gift for the one you love.
Sugar Scrub
$40 (Set of 2)
This sugar scrub, made with essential oils, is divine! Create and package one as the perfect gift and keep the other to pamper yourself and indulge in self-care. You're worth it!
Charm Bracelets
$18
The perfect tween & teen craft! Create a fun charm bracelet using demonstrated beginner jewelry techniques. Learn how to stamp metal to create a custom charm to add to your charm bracelet.
Tassel Necklaces
$45
Learn basic jewelry techniques to create a beautiful tassel necklace. Choose your colors, length and overall design.
Gilded Mugs
$35
Create a set of two gilded mugs. Choose from a large collection of stencils or freehand your own design.
Hoop Art
$35 (Set of 2 - one 4" and one 6")
Hoop art, in this case, is the practice of using an embroidery hoop to create multimedia collages. Use fabric, felt, paper, and additional embellishments to create a decorative hoop. You can add pockets and frames to make your hoop multifunctional. Add confetti, glitter or streamers to jazz it up a bit. This craft is a great way to flex your creative muscles and make something one-of-a-kind.
Wine Glass Etching
$35 (Set of 2), $60 (Set of 4), $85 (Set of 6) $110 (Set of 8)
Create a set of etched wine glasses. Customize your design and learn the simple process of glass etching. You will be impressed with the professional look of your glasses.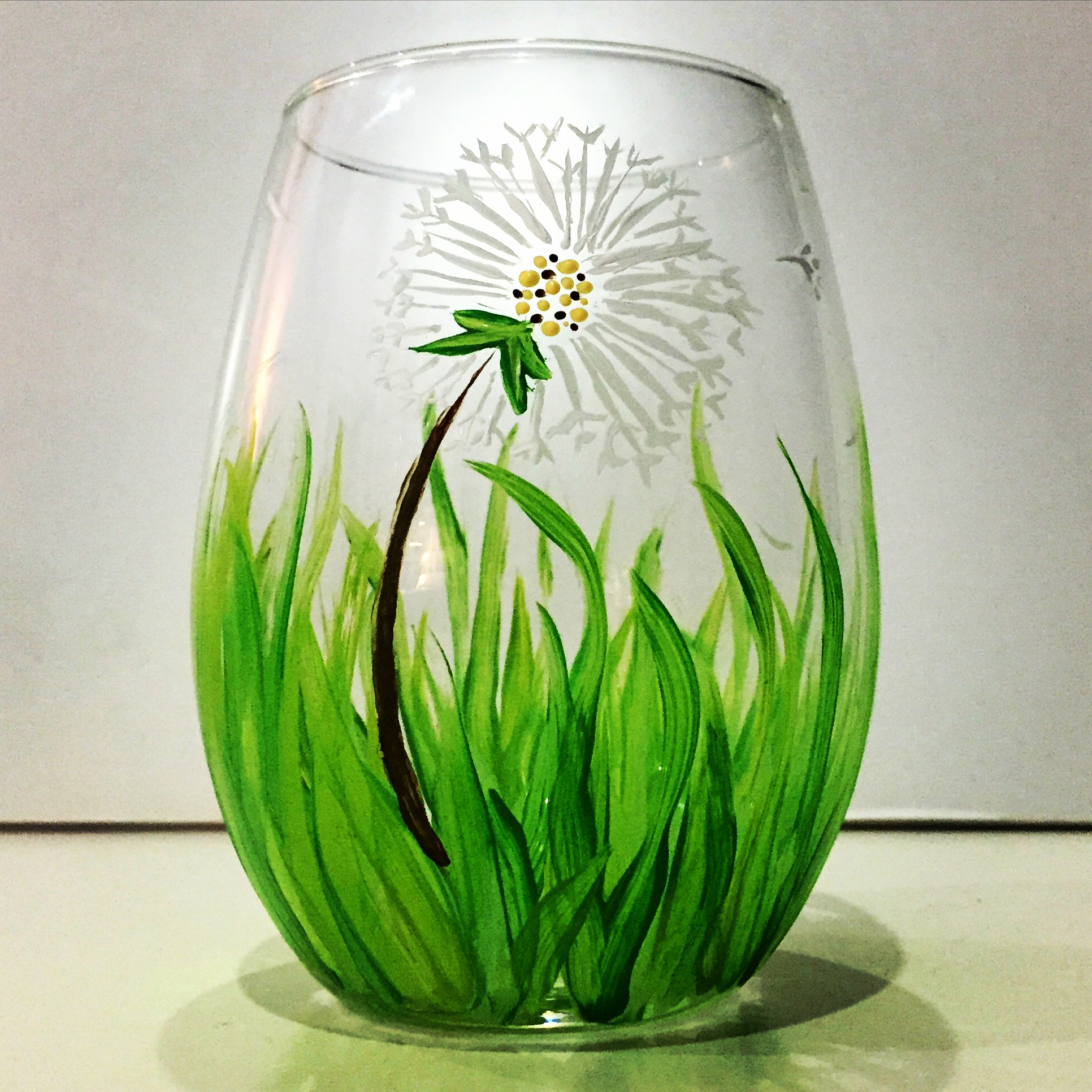 Painted Wine Glasses
$35 (Set of 2) or $60 (Set of 4)
Learn a simple step-by-step process to create beautifully hand painted wine glasses. Follow along to make the exact same design as the instructor or use the techniques presented to create your own unique design. Make all of your glasses match or switch it up for variety's sake.
Wine Tote
$35
Learn how to personalize a burlap wine tote with phrases and imagery that is sure to please. These totes are perfect for BYOB outings and make the perfect gift for someone you love!
Wine Bottle Oil Lamps
$40
Design and make a Wine Bottle Oil Lamp! You will have the option of embellishing your wine bottle with glass etching, fiber wrapping, or glass painting. Examples will be on display so you can choose what you like best! (The image above displays the glass etching option.) Lamp oil is not provided.
DIY Zentangles
$30
Learn how to illustrate your very own coloring pages in a simple and straightforward way! These types of illustrations are commonly referred to as "zentangles" due to their meditative qualities and the calming effect they have on those who draw or color them. Learn how to use simple elements and principles of design to draw unique imagery that can be reproduced as coloring pages. You will be amazed at how you are able to create a beautiful and intricate image using simple guidelines. Anyone can do this! No drawing skills necessary!
Fun Fabric Collages
$35 (Small) or $50 (Large)
Piece together a textured and colorful collage using a layering and framing technique that you'll want to use over and over again! Bring your own photographs, quotes or other imagery to incorporate into your collage to make it more personally meaningful.
Multimedia Collage
$35
Multimedia collage is a wonderful way to share your creativity and imagination with others. Use a variety of materials to create a unique collage that tells a story. Collage techniques will be presented and demonstrated so that each participant can apply them in their own way. Feel free to bring photos and personal quotes that may add to the meaningful nature of your collage.
Mason Jar Luminaries
$42 (Set of 3)
Make the most of any holiday season by making a set of three mason jar luminaries that you can use to up your decorating game. Your house guests will be charmed by your crafting skills and entranced by your designs. These luminaries can be designed to fit any season (not just Halloween, which is featured in the image) and any style.
Customized Tea Towels
$40 (Set of 4)
Use stenciling, stamping and block printing to create a set of 4 customized tea towels.
Whimsical Wind Chimes
$30
The perfect craft for both kids and adults! Combining the art of beading with that of collage and washi tape, you will create a beautiful and delightful wind chime.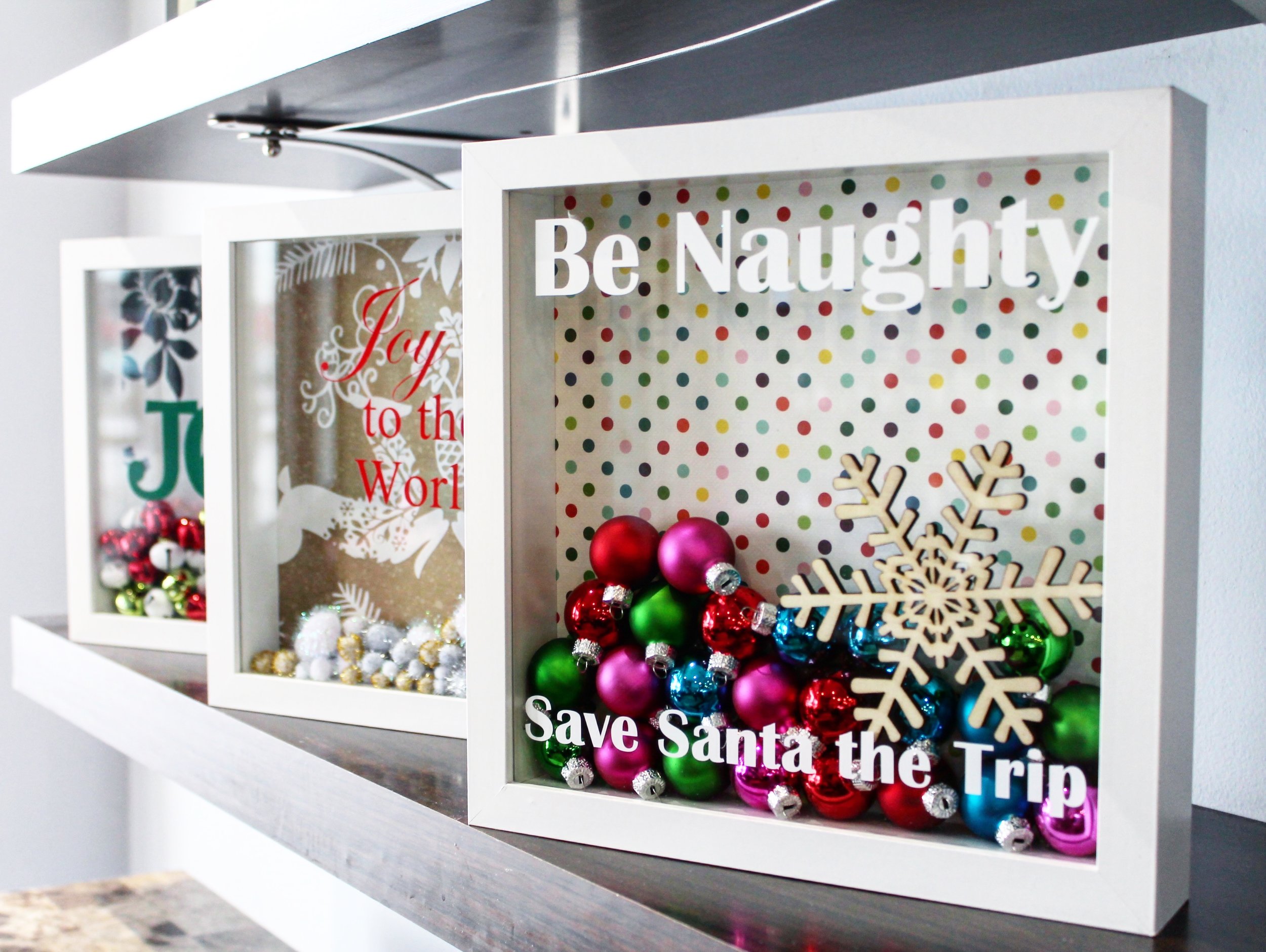 Shadowbox Art
$45
The image here may be festive, but you can choose to create shadowbox art that fits any day or season. Use multimedia materials to create your background an filler while choosing from a multitude of image and quote decals to create your foreground. Bring your own photos and quotes to make it more personal.
Cork Framed Chalkboard Art
$42
Make your own cork framed chalkboard! Use paint pens or decals to create a unique design on part of your chalkboard while leaving an unobstructed section to use for changeable chalk messages. Write important messages and pin-up notices and photos on the cork boarder. Use this board as communication central in your home and have fun doing it!
Wooden Plaques
$25
This is a great craft for everyone in the family! Make a wooden plaque with your family name, first name or initials. It's up to you! You can even write a quote or meaningful word that will inspire every time you see it.
Inspirational Magnets
$35 (Set of 4)
You will have the opportunity to create your very own abstract watercolor painting. You will then use it to back up inspirational quotes that you can look at every day. These inspirational magnets (4" x 4") are so much fun to make and always turn out so beautiful! Feel free to bring small photos to incorporate into your magnets.
Confetti Shadowbox Art
$40
Use fabulous handmade confetti from The Confetti Bar to create a whimsical atmosphere inside of a fun shadowbox. Use provided materials to create a background collage and/or bring your own photos or personally meaningful quotes to add to your background.
Family Pallet Plaque
$40
Create a piece of art that the whole family can love! Use provided materials to make a plaque featuring something special about your family. Include cute representations of your family members. Add names, monograms and other personalizations to your plaque. Each plaque will be as unique as its maker's family!
Seasonal Plaques
$40
Create seasonal decor for your home with a rustic flair. Personalize your design to your liking using the provided supplies. Add hooks, a chalkboard or cork board to make your plaque a functional piece of decor. Hang stockings or keys, pin up holiday cards, or leave a message in chalk. So many possibilities! (This craft can be altered to accommodate any holiday or to remain neutral so that it may be used all year round.)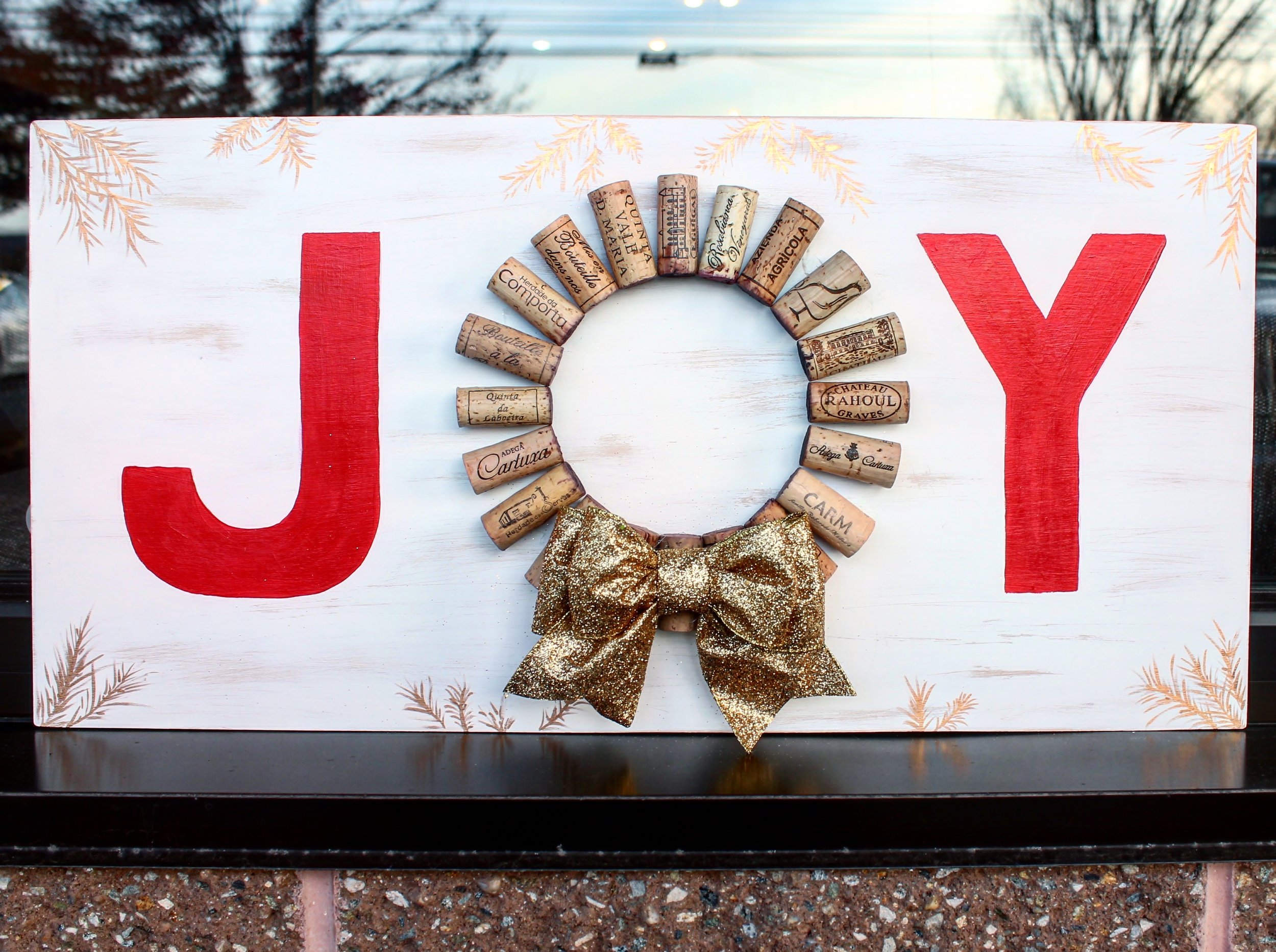 Cork JOY Sign
$40
Use corks to create this festive sign.
Festive Ornaments
$40
Make a set of four ornaments. There are a number of designs and materials to choose from.
Etched Ornaments
$40
Make a set of four etched glass ornaments and choose from a variety of materials (confetti, snow, sparkles and more) to fill them! Give them as festive gifts (wrapping materials will be provided) or keep them as a gift for yourself. With hundreds of stencils to choose from, your ornament will be etched with the perfect design.
Festive Fall Wreaths
$55
Adorn your front door with a beautiful harvest wreath this fall. Choose from a variety of flowers, foliage and more to create a unique wreath that will wow your visitors.
Witchy Halloween Wreaths
$55
Use your ghoulish crafting skills to whip up this spooky Halloween wreath! You'll love the large variety of materials to choose from. Go all out or keep it simple. It's all up to you!
Canvas Paintings
$45
Follow along while your instructor presents step-by-step instructions on how to create a beautiful painting. Please include the theme you are interested in when inquiring about booking a paint party. Example paintings are custom made for each canvas paint party. A minimum of 1 month advance planning is recommended.